---

The Great California Wine Country
Lake County has some wineries that are almost next door to Lakeview Haven. We are on the northern edge of Northern California's world famous Wine Country, producing most of the worlds leading wines, champagnes and cognacs. The wineries of Mendocino Valley are only 20 minutes away. If you want the full experience, in about an hour you can be in the heart of the Wine Country, in either the Sonoma or Napa valley.
Use this on-line Wine Country Travel Planner to quickly and easily plan your day trips from your "Base Camp" here at Lakeview Haven!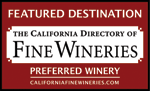 Take guided tours of the wineries of Robert Mondavi, Rodney Strong, Kendall-Jackson, Glenn Ellen, and Korbel, to name just a few. Taste some of the spectacular wines produced by not so well known, local growers (where Mondavi and Korbel might get some of their grapes). Take a ride on the "skunk train", or spend the night in a romantic bed and breakfast overlooking the vineyards. Naturally, there are a lot of great web sites covering this area. Below are just a few.
---
The Ukiah Chamber of Commerce maintains a list of
nearby wineries and breweries
.
Barra of Mendocino
is only 15 minutes from us in Redwood Valley.
McNab Ridge Winery
is only about 10 minutes more. Several Wineries have visitor's centers and tasting rooms in Hopland, about 35 minutes away.
---
Called "America's Greenest Wine Region" by the Mendocino County's wine growing industry. See maps and lists of Wineries within the county, all of them a short drive from Lakeview Haven.
Also visit
MendocinoWineCountry.com
for more information.
---
They have a free visitor's guide that you can order off the Web, and a great list of wineries with tours and tasting rooms. Their web site is an excellent showcase of the Sonoma Valley with things to do, places to stay, food to eat, transportation, calendar, and more!
---
The Napa Valley Vintners site seems to be the place to go to learn all about the Napa Valley and other places to go and see there. They have a comprehensive index of Napa Wineries.
NapaValley.com is a decidedly commercial site, but it's still a great source of information, like a more concise chart of featured wineries, with plenty of links to on-line wine sales, Hot Springs, spas, golf, current events, dining, bed and breakfasts, and lots of other stuff!
Taking a ride on the Wine Train is a memorable way to see the Napa Valley!
---
Everything you need to know to plan your trip to Northern California's wine country. Featuring the wines and wineries of the Napa Valley and Sonoma areas. Make online reservations for Bed and Breakfast lodging or your hot air balloon flight. Read articles, wine tasting notes, and barrel sample notes from the Insiders' Wine Line Magazine.
---